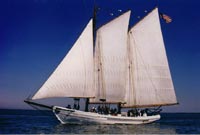 The crew aboard the schooner A.J. Meerwald had just finished a Saturday evening sail on the Delaware River near Trenton, NJ when they heard screams at around 7PM. They immediately launched a boat and headed in the direction of the screams toward a man in the river clinging to the bottom of an overturned personal watercraft, commonly known as a jet ski. The two Meerwald crew in the boat, Tom Nichols and Hudson Smith, hauled the man, who was not wearing a life jacket, aboard their boat from the cold river water.
The man was able to tell them that his friend, 26-year-old Jesus Diaz Melendez of Trenton, was missing after their jet ski ran ashore. The Meerwald's crew contacted the US Coast Guard who dispatched a 29-foot response boat crew as well as a helicopter crew. The Meerwald's boat also continued searching for Menedez for the next hour, to no avail.  The Coast Guard called off the search that evening at around 11PM. Reports are that Menendez was also not wearing a life jacket when he went into the river.
The schooner A.J. Meerwald is New Jersey's official Tall Ship. She is a restored oyster dredging schooner, whose home port is in Bivalve, Commercial Township, New Jersey. Launched in 1928, A.J. Meerwald was one of hundreds of schooners built along South Jersey's Bayshore before the decline of the shipbuilding industry which coincided with the Great Depression.
Today, the A.J. Meerwald is used by the Bayshore Center at Bivalve for onboard educational programs in the Delaware Bay near Bivalve, and at other ports in the New Jersey, Pennsylvania, and Delaware region. The A.J. Meerwald was added to the National Register of Historic Places on November 7, 1995.