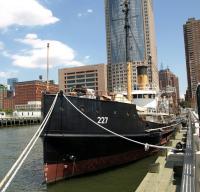 The historic lighthouse tender Lilac is hosting a literary salon to celebrate World Oceans Day. From their press release:
One Grand Books has organized a literary evening on board the museum ship Lilac to mark World Oceans Day, a global day of ocean celebration, on June 8, 2016.  This event opens the ship's 2016 season.
The literary salon opens at 6:30 PM with wine provided by the event sponsor Bedell Cellars of Long Island. Readings begin at 7:00 and will include presentations by Radiolab host Robert Krulwich and Pulitzer Prize-winning novelist Michael Cunningham.  A musical interlude will be offered by Angela McCluskey and Paul Cantelon with Linked Dance Theater performing excerpts from their site-specific work The Soul of the Sea based on The Fisherman And His Soul, a short story by Oscar Wilde.  Book sales and signings follow.
Aaron Hicklin, organizer of the program, said, "With such a rich oceanic tradition in literature, from Moby Dick to The Shipping News, it seems fitting for One Grand Books to celebrate World Oceans Day aboard this historic ship, bringing together readings, song, and dance for a truly magical night."
Lilac starts regular summer hours on June 9 and will be open Thursdays from 4:00 to 7:00 PM and Saturdays and Sundays from 2:00 to 7:00 PM. Visitors may tour the historic ship and view the exhibit of photographs Defending New York Harbor by Richard Golden, which documents New York's harbor fortifications. The ship is berthed at Hudson River Park's Pier 25 in New York City.
Since 2002, World Oceans Day has been coordinated by The Ocean Project, which advances ocean conservation in partnership with aquariums, zoos, museums, and other organizations around the world.  For more information, see World Oceans Day.
Bedell Cellars was begun in 1980 when Kip and Susan Bedell planted their first vines in Cutchogue, NY.  The winery was sold to Michael Lynne, film executive and art collector in 2000. We are grateful for their support.
One Grand is a curated bookstore in which celebrated thinkers, writers, artists, and other creative minds share the ten books they would take to their metaphorical desert island, providing the audience a window into the minds of some of the world's most engaging people. Founded by journalist Aaron Hicklin in Narrowsburg, NY.  Lists of books and more can be found at onegrandbooks.com