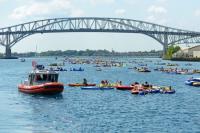 On July 12, 1812, General William Hull led a force of roughly 1,800 US militia across the Detroit River to invade Canada. It did not go well. Within days Hull and his forces were driven out by British, Canadian and Native American forces. By August 16th, Hull surrendered Fort Detroit to the British without a fight.  This weekend, there was a sort of accidental re-enactment of Hull's invasion, by an estimated 1,500 Americans on the nearby St. Clair River. Instead of being dressed as militia, however, most of the invaders were wearing bathing suits, were floating in tubes and rafts, and many were reported to be intoxicated.
They were all participating in the Port Huron Float Down, a yearly 8 mile bob down the St. Clair River, which locally forms the border between Canada and the United States. This year an estimated 5,000 floaters showed up. In the afternoon, however, the wind began to blow, picking up to as high as 30 miles per hour by 4 p.m. The wind carrying many of the raft and tube flotilla into Canadian waters. toward the shore of the city of Sarnia, Ontario.
Fortunately, just like in 1812, the Canadians were prepared to repel the American invaders, although this time the word "rescue" was perhaps more applicable than "repel." As reported by the New York Times:
The Canadian Coast Guard, with help from the Ontario Provincial Police, the Royal Canadian Mounted Police, the Canadian Coast Guard Auxiliary and the Sarnia and Point Edward Fire Departments, helped the floaters as they headed toward Sarnia, said Carol Launderville, a spokeswoman for the Canadian Coast Guard.
The Canadian Coast Guard enlisted Limnos, one of its ships that ordinarily conducts science missions on the Great Lakes, to be the command vessel on the scene.
There to greet the misdirected floaters on land were the police and emergency medical personnel from Sarnia and members of the Canadian Red Cross and the Canada Border Services Agency. Minor injuries of scrapes and bruises and twisted ankles were reported as some floaters climbed over rocks to go ashore, Ms. Launderville said, noting that where they landed had no beaches or sand.
Ten Sarnia Transit buses made 19 trips to take the stranded Americans over the Blue Water Bridge to the United States, The Sarnia Observer reported.
Fortunately, no one died or was seriously injured in the cross border rescue. Unfortunately, the city of Sarnia incurred more than 8,000 Canadian dollars (roughly $6,300) in overtime and related costs for the rescue effort.