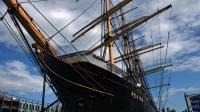 This morning, the 1911 built, steel, four masted barque, Peking, left South Street Seaport, its home for more than 40 years, for the last time. For those of us who have known the ship for almost as long, it was both a sad and joyous day. The South Street Seaport Museum lacked the resources and even the berth space to support the Peking. The museum worked very hard to find a good home for the historic ship and they succeeded.  (See a video of the departure after the page break.)
Sometime next Spring, the grand old ship will be carried on a heavy lift ship back to Hamburg, Germany, its original home port and the city where it was built 105 years ago.  In the mean time, Peking has been moved to Caddell Dry Dock in Staten Island to be made ready for the voyage home.  Peking will be restored in Germany and serve as the centerpiece of a new Hamburg harbor museum for which the German government has allocated 120 million euros. A reported 30 million euros have been allocated to transport and restore the Peking.
Peking was built in 1911 at the Blohm & Voss shipyard in Hamburg for the German ship owner, F. Laeisz, one of the famous Flying P Liners, which were among the last of the great sailing ships to round Cape Horn carrying cargo. Peking made voyages from Europe to the west coast of South America with general cargo and returned filled with nitrates for use in the making of fertilizer and explosives. The windjammer was made famous by the Irving Johnson film Around Cape Horn which documented her 1929 passage around the southern tip of South America in hurricane conditions.  After 1933, the Peking served as the school ship, Arethusa II, mooring on the River Medway in Great Britain.  She was purchased as museum ship by the South Street Seaport Museum in 1975.
Remarkably, including Peking, four of the original Flying-P Liners survive today. The Pommernis a museum ship in Mariehamn, Finland. The Passat is a museum ship in Lübeck's sea resort Travemünde, Germany and the Padua, renamed Kruzenshtern, is still sailing as a school ship under the Russian flag.
South Street Seaport will not be without a windjammer for long. Wavertree, an 1885 full-rigged iron sailing ship will return to the seaport on September 24th, following a $10 million restoration.
A short video I shot and edited of the Peking's departure.
Windjammer Peking Leaves the South Street Seaport for the Last Time