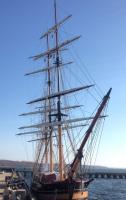 This summer, the SSV Oliver Hazard Perry will sail from its homeport of Newport, RI on a five-week expedition to the Canadian Arctic, becoming the first full-rigged sailing ship to sail in the Northwest Passage in more than a century. The University of Rhode Island has received a $3 million grant from the National Science Foundation to conduct a research and education expedition into the Canadian Arctic's Northwest Passage.
From the URI website: Two groups, each consisting of 18 students—six high school students, nine undergraduate students and three graduate students—will sail for 17-day legs of the expedition. The students will receive science instruction as the ship is underway, gain navigation and sailing skills and work alongside ocean scientists as they conduct Arctic research. The 18 undergraduate students will be from the Minority Serving Institutions. There will be a nationwide application process for high school and graduate students.
The students will also contribute to daily live broadcasts from the Arctic that will stream from the ship via satellite to the Inner Space Center, which will then send the live broadcasts to the Smithsonian Institution National Museum of Natural History, the Exploratorium in San Francisco and Alaska Sea Life Center in Seward, where audiences will be able to interact in real time with the scientists and students aboard the ship.
In addition to the live broadcasts from sea, the project will result in a two-hour, ultra high-definition documentary for television. The Minority Serving Institutions and the three science museums will host screenings of the film and events where the public can meet the expedition's students and scientists.
The three-year Northwest Passage Project is a collaboration among GSO, the film company David Clark, Inc., and several other partners, including America's newest tall ship, the SSV Oliver Hazard Perry, three science museums, PBS NewsHour Reporting Labs, and six Minority Serving Institutions: California State University Channel Islands; City College of New York; Florida International University; Texas State University; University of Illinois at Chicago; and Virginia Commonwealth University.
Oliver Hazard Perry is a 207 feet long, steel hulled, three-masted square-rigged ship and is the largest privately owned tall ship as well as the largest civilian sail training vessel in the United States. It is also the first ocean-going full-rigged ship to be built in the US in over 100 years. She is operated by the non-profit organization Oliver Hazard Perry Rhode Island.