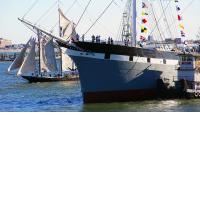 Yesterday the 1885 windjammer Wavertree returned home to New York's South Street Seaport after a $13 million, sixteen month restoration in Caddell Drydock in Staten Island. She was escorted home by the 1885 schooner Pioneer, the 1893 schooner Lettie G Howard and the 1931 fireboat John J. Harvey.
The Wavertree, an full-rigged iron-hulled windjammer, has been a museum ship in at New York's South Street Seaport Museum since 1969. She is one of the largest iron-hulled sailing ship afloat. Wavertree was built at Southampton, England in 1885 for R.W. Leyland & Company of Liverpool.
Here is a short video of her return to the seaport.