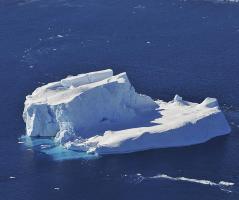 While much of the focus has been on the melting of the Arctic ice cap, recent studies highlight the dramatic melting of ice shelves at the other end of the globe. On the west side of Antarctica, giant glaciers form ice shelves as they push out into the ocean. The rate at which these ice shelves are melting is reported to be accelerating rapidly. As the ice shelves shrink, the flow of the glaciers behind them speeds up, moving what had been land-bound ice into the ocean. It is estimated that there is enough water in the ice of the West Antarctic Ice Sheet to raise sea levels around the world by 10-13 feet, if the sheet melted entirely. Partial melting or collapse could still raise sea levels by several feet.
One area of the ice sheets which is of particular concerns is the Amundsen Sea embayment in West Antarctica in an area fed by the Smith, Pope and Kohler glaciers. Warm water in the area has been melting the ice shelves from below.
"When water gets between ice and land, it moves quickly, bringing lots of heat in, and melting the ice above it more rapidly," said Thomas Wagner, the director of NASA's polar science program. "The Amundsen sea embayment is a place where we know this is happening." A team from NASA's Jet Propulsion Laboratory (JPL) have used radar to look beneath the ice and observed that the shelf is melting faster than they have ever seen.
NPR quotes Ala Khazendar, a geophysicist and polar expert at JPL saying that the more the bottom of the shelves melt, the more ice is exposed to warm water. "It becomes a runaway process," he explains, "which makes it unstable."
Khazendar says the melting process appears to be irreversible. Polar scientists fear that at some point, the shelves will collapse and Antarctica's glaciers will flow into the sea. As to whether and when that might happen?
"The simple answer is we don't know. And that's the scary part," Khazendar says.