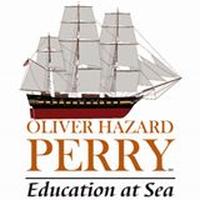 The SSV Oliver Hazard Perry is looking for crew for their December-April season in Florida, Bahamas, and Bermuda.  From their announcement of their website:
After a successful first season underway, we are excited to continue our year round operations with a voyage south to Florida, Bahamas and Bermuda. This summer 160 students embarked on our programs, making our total count for trainees embarking on OHPRI programs to almost 600. We were warmly welcomes into 20 harbors and ports in New England and enjoyed many great days of sailing.
On Tuesday Oliver Hazard Perry was hauled out of the water for routine inspection, maintenance and upgrades at the new Goodison facility in Quonset, RI. We have a great team of project managers, naval architects and contractors on the job and expect to splash back in at the end of November.  At this point we will prepare for our voyage south departing early January for warmer climates.
Our winter season will involve offshore ocean passages, sailing programs with high school partners, adult voyages, & port visits, with as much sailing as we can get in.
We are currently hiring for the following positions:
– Chief mate (500T USCG with aux sail)
– Third Mate (500T USCG with aux sail)
– Bosun (AB)
– Engineer (3rd Assistant Engineer)
– Assistant Engineer (can be unlicensed but must be highly experienced)
– At least 4 licensed deck crew (AB)
– Cook
– Medical Officer (EMT & wilderness training)
– Curriculum coordinator (experience with sailing curriculum development and teaching teenagers)
Positions run from on or before Dec 1, 2016 – April 28, 2017
Please refer to the employment section of our website for more information: http://www.ohpri.org/employment
At this time we do not have any unlicensed deckhand positions open, however we will take 10 volunteer with us for the transit south (2 weeks in early January). So if you don't have any licenses, and are looking for some seatime and a foot in the door, send me a resume and cover letter to explain your interest.