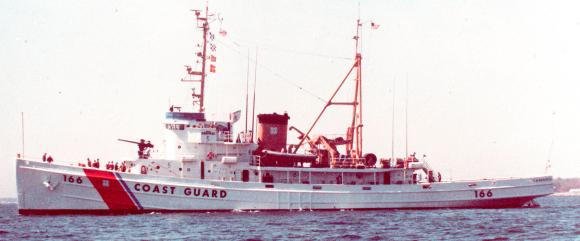 The historic USCG CutterTamaroa will soon be sunk as an artificial reef in the Atlantic Ocean 25 miles south of Cape May Point, New Jersey.  The old ship has had a remarkable history.  Built in 1943 as USS Zuni, the 205-foot fleet ocean/salvage tug and one of seventy Cherokee-class fleet tugs saw service in World War II in campaigns in the Marianas, the Philippines, and at Iwo Jima.  After the war, she was transferred to the US Coast Guard and renamed Tamaroa.  
USCGC Tamaroa had a 48 year long career in US Coast Guard, serving on safety patrols, in drug interdiction and fisheries protection. She was the first Coast Guard Cutter to arrive at the sinking passenger liner Andrea Doria after the collision with the the Swedish liner Stockholm 1956. Tamaroa may be best known for rescuing the crew of the yacht Satori, as well as the crew of a downed Air National Guard helicopter during the "Perfect Storm" of 1991,
described in Sebastian Junger's book, The Perfect Storm.
USCGC Tamaroa will also be remembered for a landmark tort case, related to the actions of a crew member while the ship was in drydock in 1963. An intoxicated seaman returning to the ship, opened a series of valves on a floating drydock in the Ira Bushey yard on Brooklyn's Gowanus canal.  The open valves caused tanks on one side of the drydock to flood, causing the Tamaroa to slide off the docking blocks and into the drydock wall.  Both the drydock and the ship suffered significant damage. The yard owner sued the Coast Guard which was found to be at fault, establishing that the ship owner was responsible for damages caused by the actions of a crew member in the course of his employment.
The Navy Times reports that New Jersey and Delaware officials say the 205-foot ship will help expand their joint deepwater reef 25 miles south of Cape May Point by attracting large game fish and aiding the Garden State's $1.7 billion recreational fishing industry.
They plan to sink the Tamaroa around Oct. 30, the 25th anniversary of "The Perfect Storm," although no official announcement has been issued.
The man who commanded the ship during the 1991 "Perfect Storm" said sinking the Tamaroa is a better outcome than being demolished for scrap metal, a common ending for old service ships.
"It's always sad when you sink a ship, but some good will come of it," retired Coast Guard Capt. Larry Brudnicki said. "It's being repurposed. It's being used. If it's cut up, who's going to know that their razor blade came from the Tamaroa?"
Thanks to Phil Leon for contributing to this post.