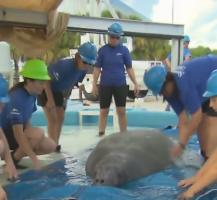 What an 800 pound West Indian manatee was doing hanging around Washburn Island, near Falmouth, MA at the end of September is unclear, and the manatee wasn't talking. The waters near Cape Cod in Autumn are not a good place for a manatee to find itself. Manatees do not do well in water below 68 degrees F and in September in Massachusetts, the water temperatures were dropping fast. Fortunately, fisherman had been spotting the aquatic mammal since mid-August and notified the folks at the International Fund for Animal Welfare. IFAW developed a rescue plan, marshaled the three boats that they would need and got the necessary permits to capture and transport the manatee. Manatees are an endangered species so approvals were required. On September 22, they netted the 8 foot long, 800 pound manatee off Washburn Island and brought the mammal to the Mystic Aquarium in Mystic Connecticut to rest and recuperate until transportation to warmer waters could be arranged.
Nicknamed Washburn, for the island near where it was netted, the manatee proved to be a female and also to be four to five months pregnant. One of the reasons that manatees are endangered is their low reproduction rate — breeding and berthing one calf only once every two years — so, to save a pregnant manatee was particularly gratifying to all involved in the rescue.
This week, the US Coast Guard, in partnership with the Florida Fish and Wildlife Conservation, flew Washburn back to Florida. Researchers are watching her (and her unborn calf) at SeaWorld in Orlando, while the wildlife agency decides when and where to release Washburn.