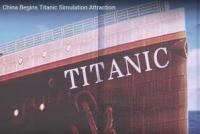 Back in 2012, we posted about Australian billionaire Clive Palmer's grand plans to build a sorta-replica of RMS Titanic. The Titanic II, as it was to be known, was supposed to be built in a Chinese shipyard enter with a target date to service by the end of 2016. So far, however, no steel has been cut and the status of the project is unclear.
There is, nevertheless, a replica of the Titanic under construction in China. Construction began on November 30th in Suining, Sichuan province, China, 745 miles from the sea. The full-sized replica will be a fixed attraction, rather than ship, as a part of Star Energy Investment Group's plans for a tourist resort along the Qijiang River in Sichuan's Daying County. The Daily Mail reports that the replica plans sparked controversy when it was announced the design would include a simulation of the iceberg crash that sank the original ship in the Atlantic Ocean on April 15, 1912. Some 1,500 people died in the disaster. Nevertheless, the replica itself should be very close to unsinkable.
Guests will be able to dine and stay aboard the replica liner. The project will cost around $145 million and is expected to be completed toward the end of next year.
China Begins Titanic Simulation Attraction
Thanks to Alaric Bond for contributing to this post.