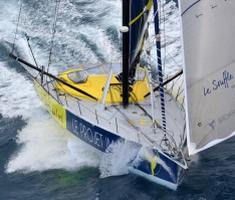 The seas are growing increasingly cluttered. In addition to all the other hazards of the sea, floating objects are a serious threat to sailors. So far, of the original 29 competitors in the Vendee Globe singlehanded around the world race, 5 have been forced to retire after being damaged by collisions with UFOs, unidentified floating objects. Another boat, Hugo Boss, sailed by Alex Thomson, lost a foil daggerboard to a UFO, but has managed to keep sailing, and is now still in second place. Three other Vendee Globe racers have retired for reasons not related to collisions — two due to dis-masting and the other from damage to a foil in heavy weather.
A rundown of the collisions with UFOs:

In early December, French skipper Kito de Pavant, aboard his boat Bastide Otio, struck an object in the Southern Ocean which destroyed his keel housing, ripped off his aft keel mountings and left the appendage supported only by the hydraulic keel ram. Pavant was subsequently rescued by a French research and supply vessel.
Despite losing his starboard foil daggerboard in a collision at an estimated 22-24 knots, Alex Thomson sailing Hugo Boss is till holding on to second place overall.