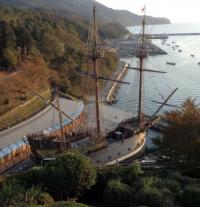 I love stumbling across bits of history that are completely new to me. The Japanese galleon San Juan Bautista is a good example. The San Juan Bautista was one of the first Western-style sailing ships to be built in Japan. The ship, also known as the Date Maru, 伊達丸, sailed across the Pacific in 1614 to Acapulco, Mexico, carrying 180 people in a Japanese diplomatic mission whose goal was to establish trade with Mexico. Hasekura Tsunenaga, the Japanese envoy, and his retinue traveled across Mexico to Vera Cruz where they caught a ship that would take them to Europe and Rome where they attempted to negotiate a treaty with the Pope and the King of Spain.
Their negotiations were not successful as they took place as Japan, after a period of relative openness, was returning to a policy of isolation and was suppressing Christianity. The San Juan Bautista returned to Japan in 1615. The ship made one more voyage to Mexico in 1616. The voyage went badly, taking over eight months. 100 crew members died. The ship was ultimately sold to the Spanish in the Philippines in 1618. Tsunenaga finally made it back to Japan in 1620 and died a year later. Japan would not make an other overture to Europe for more than 200 years, until 1862.
Today, a full sized replica of the San Juan Bautista is the centerpiece of museum in Ishinomaki City, Japan. The replica was dismasted by the Japaneses tsunami of 2011 but was repaired with Douglas fir masts from British Columbia. The museum reopened in 2013.