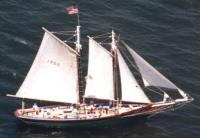 The schooner Mary E is coming home to the Bath, Maine on the Kennebec River where she was built in 1906. She is believed to be believed to be the oldest Bath-built wooden vessel still afloat, as well as the oldest fishing schooner built in the state of Maine still sailing. The Maine Maritime Museum is purchasing the schooner from her current owner Matt Culen of Pelham, N.Y., who has been operating Mary E in partnership with the Connecticut River Museum, in Essex, CT.
As reported by the CAMM News blog: Built in Bath in 1906 by shipbuilder Thomas E. Hagan (in a shipyard located where Bath Iron Works stands today), and restored in Bath in 1965 by William R. Donnell II (on the grounds of what is now Maine Maritime Museum), Mary E is a two-masted clipper schooner with a sparred length of 73 feet. This is the last of 69 vessels built by Hagan and representative of the type of vessel that would have been seen all over the coast of Maine in the 1900s.
Mary E will be delivered to the museum in spring of 2017, and the restoration work started by her current owner, Matt Culen of Pelham, N.Y., will be completed on the museum's campus, giving the public the opportunity to witness historic shipbuilding techniques first hand.
Following completion of the work, Mary E will be docked at the museum, serving as a historic vessel accessible to everyone. Mary E will also serve as the ambassador of Maine Maritime Museum and of Bath, the "City of Ships," traveling to events up and down the coast.
"This is a vessel of remarkable importance, despite its modest size," said Senior Curator Nathan Lipfert. "We have compiled a list of historic Maine vessels that are still extant, and there is nothing older, or better, that is available to us. I am very excited about Mary E becoming part of the historic collection of the museum, and I am looking forward to continuing research on her long history."