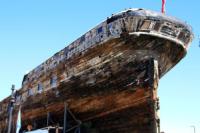 In February 2014, the City of Adelaide, the world's oldest surviving composite clipper ship, returned to her namesake city. Now almost three years later, she still have not quite found a home. The ship is sitting on a deck barge as a "temporary" accommodation at Port Adelaide's Dock 1, with no permanent dock space yet in sight. The State Government's commitment to provide a permanent location for the largely privately funded project remains unfulfilled.
Built in Sunderland, England, in 1864, the City of Adelaide is a composite clipper ship. Like the somewhat newer Cutty Sark, a composite ship has wooden planks over an iron keel, frames and girders. City of Adelaide made 23 annual return voyages from London and Plymouth to Adelaide, South Australia. An estimated 250,000 Australians can trace their ancestry to passengers who arrived on the ship.
After her career as an immigrant ship, City of Adelaide served variously as a collier, a hospital, and a Royal Navy training ship. In 1992, the ship was taken over by the Scottish Maritime Museum in Irvine. The museum, however, lacked the resources to support the ship and considered scrapping the historic clipper. The City of Adelaide was rescued by a group in Adelaide, Australia who raised the money to transport the clipper ship back to her namesake port in 2014.
The intention was that the ship would temporarily be placed on a barge in Port Adelaide's Dock 1, for a period of around 6 months, until a permanent site could be made ready. Three years later, the City of Adelaide is still waiting for to find a home.