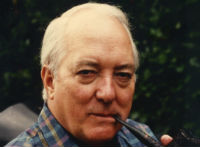 We understand that writer Douglas Reeman has died at this home in Cobham, Surrey, at the age of 92. Reeman, perhaps best know for the novels written under the pen-name Alexander Kent, wrote close to 60 books and has left an indelible mark on the literature of the sea.
Douglas Edward Reeman was born at Thames Ditton, on October 15, 1924. He joined the Royal Navy in 1940, at the age of 16, and served during World War II and the Korean War, rising to the rank of lieutenant. In addition to being an author, Reeman has also taught the art of navigation for yachting and served as a technical advisor for films. Reeman is survived by his wife of thirty one years, Kimberley Jordan.
As Douglas Reeman, he wrote about naval action during the twentieth century, with a primary focus on Britain's Royal Navy. Using the pen-name Alexander Kent, he chronicled the adventures of Richard and Adam Bolitho at sea during the Age of Fighting Sail in a series spanning thirty novels. More than than 30 million copies of his books are in print. He will be missed by all lovers of nautical fiction.
In an interview, Douglas Reeman commented, 'I am always asked to account for the perennial appeal of the sea story, and its enduring interest for people of so many nationalities and cultures. It would seem that the eternal and sometimes elusive triangle of man, ship and ocean, particularly under the stress of war, produces the best qualities of courage and compassion, irrespective of the rights and wrongs of conflict . . . The sea has no understanding of righteous or unjust causes. It is the common enemy, respected by all who serve on it, ignored at their peril.'