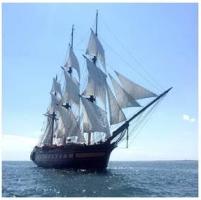 After a successful first season sailing New England waters, SSV Oliver Hazard Perry has an exciting 2017 ahead. Toward the end of January, the sailing school ship will depart Newport, RI bound for Bermuda, then to Florida where the ship will be based through March. The ship will offer opportunities for explorers of all ages to participate in one of two round-trip voyages to Cuba (March 10-18 and March 18-26); a passage from Ft. Lauderdale to Bermuda (April 2-12); or a passage from Bermuda to Newport, R.I. (April 14-22). The voyages to Cuba are targeted towards high school and college students, with a limited number of berths available for adventurous adults as well. The Bermuda and Newport passages are hosted in partnership with Ocean Navigator magazine for any adults wanting to learn the skill of offshore celestial navigation and marine meteorology.
As we posted previously, (SSV Oliver Hazard Perry to Sail to Northwest Passage) this summer, the Oliver Hazard Perry will sail north to the Arctic and into the Northwest Passage on a groundbreaking ocean science research expedition in partnership with the University of Rhode Island Graduate School of Oceanography and funded by the National Science Foundation. While the students for this one leg of the voyage will be selected by the University, there are opportunities for students to participate as trainees for one week as the ship makes the passage north from Lunenburg, Nova Scotia to St. John's, Newfoundland (June 25-July 1) or for three weeks from St. John's, Newfoundland across the Arctic Circle, with a stop in Greenland and then to Pond Inlet (July 7-28). Spots also are available for adult adventurers on four legs of the return passage from the Arctic: Cambridge Bay to Resolute Bay (Aug. 27-Sept. 10), Resolute Bay to Pond Inlet (Sept. 10-120), Pond Inlet to St. Johns (Sept. 20-Oct. 11), and St. John's to Newport (Oct. 17-26).
"2017 is going to be a historical year for OHPRI; we are so proud of how far our programs have come and the exciting schedule ahead of us," said Oliver Hazard Perry Rhode Island (OHPRI) Executive Director Jessica Wurzbacher. "Simply visiting somewhere like Cuba or the Arctic is exciting in itself, but it's quite another thing to arrive on a Tall Ship where you have been fully immersed in the adventure and responsible for actually getting yourself there."
Oliver Hazard Perry is a 207 feet long, steel hulled, three-masted square-rigged ship and is the largest privately owned tall ship as well as the largest civilian sail training vessel in the United States. It is also the first ocean-going full-rigged ship to be built in the US in over 100 years. She is operated by the non-profit organization Oliver Hazard Perry Rhode Island.