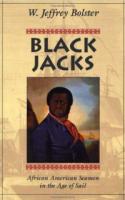 I read Dr. Jeffrey Bolster's book, Black Jacks: African American Seamen in the Age of Sail, not long after it came out a few years ago. It is a fascinating study of the largely untold story of African-American sailors in the maritime trades from colonial times through the Civil War. This Saturday, February 4, 2017 at 2 PM, the Noble Maritime Collection at the Snug Harbor Cultural Center in Staten Island will be hosting a presentation of Black Jacks: African American Seamen in the Age of Sail by Dr. Bolster. Using historical sources and images, Dr. Bolster will explore the role African Americans played in the nation's maritime culture. The presentation is free and all are welcome. Sounds like a fascinating afternoon.
By the 1830s, over 20% of sailors from American coastal cities were of African descent, and in New York City over 25% of all maritime workers were black. Black sailors worked in seaports in ship repair and dock building, and many were linguists and port entrepreneurs. Dr. Bolster charts new ground by exploring the substantial and largely unexamined African American presence aboard coastal craft, merchant vessels, privateer and pirate ships, whalers, and naval vessels.
Dr. Jeffrey Bolster, the Bancroft Prize winning author of the 1997 book Black Jacks, is Associate Professor of History at the University of New Hampshire and a veteran seaman. Black Jacks is published by Harvard University Press.
The Noble Maritime Collection is a museum and study center on the grounds of the former retirement home for mariners, Sailors' Snug Harbor. The museum's home is Building D, the former mariners' dormitory at Sailors' Snug Harbor that housed black "Snugs," the maritime retirees at Snug Harbor.
The Noble Maritime Collection is located at Snug Harbor Cultural Center and Botanical Garden, 1000 Richmond Terrace, Staten Island, New York and is open Thursdays through Sundays from 1 to 5 PM, and by appointment. Admission is by donation. For more information call (718) 447-6490 or visit www.noblemaritime.org.