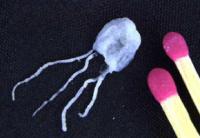 Recently, a 63 year old British tourist died suddenly while snorkelling on Australia's Great Barrier Reef. He is the fifth tourist to die in the last three months. In November, a 60-year-old British man and two French tourists, aged 74 and 76, died within days of each other while diving and snorkelling in spots north of Cairns. Ten deaths occurred on the Great Barrier Reef last year.
The Great Barrier Reef is a major Australian tourist destination, attracting upwards of 2 million people each year and generating over $4 billion in revenues. Given the large numbers of tourists, the deaths of ten people on the reef might be explained by the laws of probability. As is the case in the United States, cardiovascular disease is the leading cause of death in Australia. Many of the deaths on the reef have been attributed to heart attacks.
Many, however, are concerned that something even more deadly may be killing people on the reef — the Irukandji jellyfish, the smallest and most venomous jellyfish in the world. Tiny and translucent, its venom is said to be 100 times stronger than that of a cobra. Irukandji are native to the Great Barrier Reef.
Last April, 38-year-old Cairns dive boat skipper, Leila Trott, was found dead, floating face down after swimming to retrieve a dinghy. The coroner ruled her death to be a heart attack. Trott's parents, however believed she could have been stung by an Irukandji jellyfish. They were also concerned the true cause of her death may have been covered up in some way to protect tourism on the reef. They have accepted the coroner's report but still have doubts.
Her father Bob Trott told the Courier-Mail, "We don't want to ruffle any feathers and we will accept whatever findings the coroner hands down. But we have also hit a raw nerve with our questions about Irukandji syndrome and how many other deaths might be linked to it. It is the great unknown.''
The concern is that an irukandji sting may induce a heart attack. Peter Fenner, a former Associate Professor at James Cook University's School of Medicine, documented the first reported death from iruk­andji syndrome in 2002. He explained to the Cairns Post how the jellyfish sting might trigger a cardiac arrest. "If they had been stung by an irukandji, it would put their blood pressure up very high. If they've got previous card­iac history, then sudden high blood pressure will put a much greater strain on the heart and could well lead to a heart attack."
The Guardian reports that Sydney cardiologist Dr Ross Walker has speculated an irukandji jellyfish could be to blame for the deaths of the two French tourists who suffered fatal heart attacks at almost the same moment last November.
"Irukandji are the size of your little fingernail, they're very small, you can't see them," he told media outlets. "It's highly unlikely that two people are going to die within minutes of each other just because they've got underlying medical conditions."
In 2002, a 58-year-old British tourist Richard Jordan was believed to have been the first person to have died after being stung by an irukandji. He was stung whilst swimming off Hamilton Island, in north Queensland's Whitsundays, and the sting aggravated a pre-existing heart condition and blood pressure causing cerebral hemorrhage.
Tour boat operators have largely dismissed the irukandji as the cause of recent deaths.