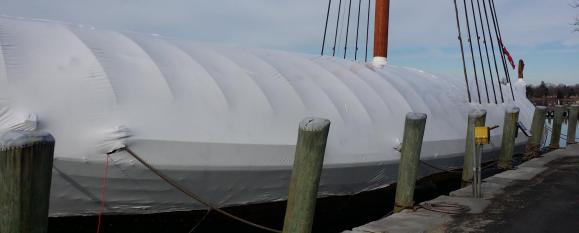 On a recent visit to the Mystic Seaport Museum in Mystic CT, I came across the Viking longship, Draken Harald Hårfagre, tied up alongside a wharf, wrapped in glistening white plastic shrink-wrap, its single mast piercing what looked almost like a ship-shaped mound of snow.
The longship arrived in Mystic last October after an epic voyage across the Atlantic that began in Haugesund, Norway in April, with port calls in Reykjavik, Iceland, Qaqortoq, Greenland and Newfoundland, Canada. The ship then sailed into the Great Lakes as far as Green Bay, Wisconsin before turning around and visiting New York City in September. At 115 foot long, Draken Harald Hårfagre is largest Viking longship built in modern times.
And where will Draken Harald Hårfagre be voyaging this year? An itinerary has yet to be finalized. Steven Dahlman, writing for Loop North News, reached Björn Ahlander, the Draken's captain, by email. The captain replied that the Draken will leave Connecticut around June 15 and visit "many exciting American ports." Before leaving Mystic, upkeep and maintenance is scheduled for the months of April and May, including hauling and painting and sail and rigging repair.