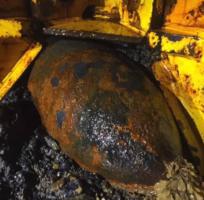 In 2011, a drought lowered the levels of the Rhine River, revealing unexploded munitions from World War II partially buried in the river banks exposed by the falling waters. Now, in Portsmouth harbor in the UK, World War II bombs are also being uncovered, not due to a drought but from dredging. On Wednesday, one of the dredges discovered what is a believed to be a German SC250 bomb, weighing 500 lbs, containing 290 lbs of "high explosives." The harbor is being dredged to deepen and widen a four-mile channel to allow the the navy's new 65,000-tonne aircraft carriers to dock. From the Royal Navy website:
The entrance to Portsmouth Harbour was closed until around 7.30am as a precaution while the bomb disposal team assessed the swiftest and safest way of removing the device. Divers from the Royal Navy's Portsmouth-based Southern Diving Unit 2 towed the bomb away from the harbour, lowered it to the seabed, and planted explosive charges for a controlled detonation of the device. Shortly after 11am, it was destroyed in a plume of smoke and spray.
This is not the first ordnance from World War II discovered in the latest dredging. A week ago, the bomb disposal divers were called out to blow up up a British-made Armstrong Whitworth munition which had been found in the excavator head of a barge dredging the harbor.
In late September and early November of last year, the dredging also uncovered two 500 kg (1,102 lb) World War II bombs, which were also detonated.
Unexploded 500-Pound World War II Bomb Found In UK Harbor
Thanks to Alaric Bond for passing on the news.