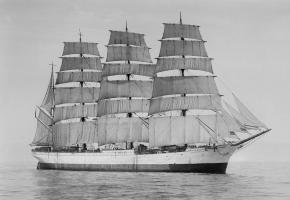 Given that so much of what is happening in the world today seems like a shipwreck, it seems appropriate to post a very well done short documentary of the wreck of the great four-masted steel barque the Herzogin Cecilie, which grounded off south Devon on April 25, 1936, the last windjammer to be wrecked on the English coast.
In her day, Herzogin Cecillie was considered to be the most beautiful and may have been the fastest windjammer ever built, once clocking over 20 knots over a measured course between two lightships. The barque, named after German Crown Princess Duchess Cecilie of Mecklenburg-Schwerin, was also the winner of eight grain races, the annual races between Australia and Great Britain, carrying the yearly grain harvest.
In 1936, Herzogin Cecillie had just completed a voayage from Port Lincoln in South Australia to Falmouth in 86 days, beating all her competition. From Flamouth she sailed for Ipswich in dense fog and on April 25, 1936 ran aground on Ham Stone Rock and drifted onto the cliffs of Bolt Head on the south Devon coast.