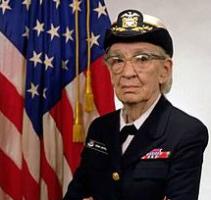 Yale University has announced that it is renaming Calhoun College the Grace Hopper College in honor of Grace Murray Hopper. The University decided to change the name of the residential college which had been named after John C. Calhoun, who attended Yale in 1804 and was also a white supremacist and vocal advocate of slavery. Grace Hopper was a pioneering computer scientist and a United States Navy Rear Admiral. Hopper received both a masters degree and a PhD in mathematics from Yale. She is often referred to as "Amazing Grace" and as the "mother of computing."
In September, 2016, the U.S. Naval Academy announced that it will name its future cyber building after Grace Hopper. The cyber facility, which will be called Hopper Hall, will be the first building named after a woman at the three main service academies.
On November 22, 2016, she was posthumously awarded the Presidential Medal of Freedom by President Barack Obama. Admiral Hopper had previously been recognized by the naming of the U.S. Navy Arleigh Burke-class guided-missile destroyer USS Hopper in her honor. USS Hopper is only the second U.S. Navy warship to be named for a woman from the Navy's own ranks. Hopper's great-grandfather was an admiral in the US Navy during the Civil War.
Hopper attempted to enlist in the Navy at the start of World War II but was rejected due to her age, 34, and her weight. She was too thin. In 1943, she joined the U.S. Navy Reserve and was assigned to the Bureau of Ships Computation Project at Harvard University where she was one of the first programmers of the Harvard Mark I computer. She would go on to develop the first compiler and to work on the first machine-independent programming languages, which led to the development of COBOL and other languages. In the 1970s, she advocated for networked computing and for standardization and testing of programming languages, a standard which was adopted by the National Institute of Standards and Technology (NIST).
Naval Reserve regulations required that Hopper retire at age 60, but she was called back to active duty twice before her final retirement. In 1985, she was promoted to Rear Admiral. She retired (involuntarily) from the Navy on August 14, 1986, a few months before her 80th birthday. After leaving the Navy, she served as a senior consultant to to Digital Equipment Corporation, until her death in 1992, at the age of 85.1969: She won the inaugural "computer sciences man of the year" award from the Data Processing Management Association.
1971: The annual Grace Murray Hopper Award for Outstanding Young Computer Professionals was established in 1971 by the Association for Computing Machinery.
1973: She became the first person from the United States and the first woman of any nationality to be made a Distinguished Fellow of the British Computer Society.
1986: Upon her retirement, she received the Defense Distinguished Service Medal.
1987: She became a Computer History Museum Fellow Award Recipient.
1988: She received the Golden Gavel Award at the Toastmasters International convention in Washington, DC.
1991: She received the National Medal of Technology.
1996: USS Hopper (DDG-70) was launched. Nicknamed Amazing Grace, it is on a very short list of U.S. military vessels named after women.
2001: Eavan Boland wrote a poem dedicated to Grace Hopper titled "Code" in her 2001 release Against Love Poetry.
2009: The Department of Energy's National Energy Research Scientific Computing Center named its flagship system "Hopper".
The Fleet Numerical Meteorology and Oceanography Center is located at 7 Grace Hopper Avenue in Monterey, California.