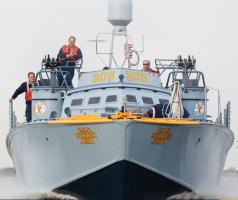 The National WWII Museum has fully restored PT-305 and is putting her back in service on Louisiana's Lake Pontchartrain. PT-305, nicknamed U.S.S. Sudden Jerk, is the only surviving fully-operational patrol torpedo boat to have seen combat in World War II. She has now earned U.S. Coast Guard approval to carry passengers, with public rides expected to begin on April 1.
The restoration of the boat, originally built by Higgins Industries in New Orleans in 1943, has been a ten year project involving over 200 volunteers and more than 105,000 hours of labor. As reported by Maritime Executive, 10 other PT boats are known to exist in the U.S., four of which are partially or completely restored but not operational, and four of which have undergone little or no restoration. (The remaining boat, PT-658, is restored and operational but not a combat veteran.)
In World War II, patrol torpedo boats were given numbers rather than names. The crews were allowed give the boats nicknames, however. PT-305 has two different nicknames during the war — USS Sudden Jerk and USS Half Hitch. The restored boat now proudly displayed the first nickname on its bow. Baker First Class Benedict Bronder, from Minnesota, who came aboard PT-305 with the first crew in 1943, explained how the boat got its nickname. Bronder
"The one we had was Sudden Jerk," he said. "And the way they got that (was) they were backing in to park it and they sped up a little bit too much and when it come back, it hit where it was tied up. And they said 'That was a sudden jerk!' and then they said, 'That's a good name!' It didn't ruin anything on the boat, but that's where it got the name Sudden Jerk."
Appropriately enough, history repeated itself this week. Last Thursday, after a successful preview cruise on Lake Pontchartrain, the landing on returning to the dock was a bit rough, involving a sudden jerk, if you will. Captain George Benedetto explained that an engine had refused to quit. No passengers or crew were injured in the landing the boat was unhurt.
Watch the World War II Museum's PT-305 cruise Lake Pontchartrain
Thanks to Mary Habstritt for contributing to this post.