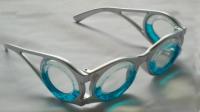 Charles Darwin once wrote, "If it was not for sea-sickness, the whole world would be sailors." Some of us are more susceptible to mal de mer than others. Apparently, Darwin was very prone to sea sickness. From my own experience, I am fairly lucky, falling somewhere about the middle of the misery spectrum — neither quite immune nor wholly incapacitated by sea sickness. In a few weeks, I will be setting off an a five day delivery trip on my new/old boat with a new crew, so I will be sure that we have all the standard anti-sea-sickness "remedies" — a stock of saltine crackers, apples, ginger-ale and, if need be, Bonine. Often the best defense against motion sickness is just keeping an eye on the horizon. I wonder, however, if I am being too old-school in my approach. Perhaps, we should consider anti-sea sickness googles and glasses.
Anti-sea sickness googles and glasses have been around for almost a decade, yet they haven't seemed to have caught on. Part of the issue may be expense. The other consideration is that the most effective googles simply look funny.
One of the most effective type of glasses is the so-called "boarding ring" glasses. Sea sickness is generally caused by a conflict between the motion sensed by the inner ear and what is being seen through your eyes. Boarding ring glasses create its own virtual horizon which agrees with what your inner ear is experiencing, thus stopping the sea sickness. It is said that they only need to be worn for a few minutes before any symptoms of motion sickness will disappear. Clinical tests, carried out with the French Navy, have shown them to be 95% effective, surpassing most other seasickness remedies.
How much do they cost? Good question. The only available boarding ring anti-sea sickness glasses currently available on Amazon are $182.64 and appear to be sourced from Japan. On the other hand, a UK chandlery has them on sale for £59.95, or around $75.
The other consideration is appearance. One review comments: I am sure that only one pair of those glasses would be enough onboard because they look so funny that other teammates would forget about seasickness as soon as they look at the person who wears them. The manual says that there are neither side-effects nor contra-indications to the person who wears seasickness glasses but laughter onboard would be appreciated as harmless side-effect for the other crew members.
On the other hand, if I am really seasick, I really do not care what I look like. And they apparently do work. At the end of 2013, boarding ring glasses won the coveted DAME Award, the world's number one international design competition for new marine equipment and accessories.
There is another anti-sea sickness technology which appears to have developed from the virtual reality business. Many virtual reality head sets have been found to induce motion sickness, so the VR designers have come up with an electronic cure for motion sickness. They use electronic lenses which start to strobe (both lenses becomes dark and then clear very fast) creating better perception of movement and minimizing the disagreement between perception and the inner ear's interpretation of movement. Xpand Vision is one of the companies making these electronic sea sickness fighters. They look less dorky than the boarding ring glasses but still cost around $150 a copy. They are battery operated and appear not to be as rigorously test than the boarding ring design. Travel Shades in the UK also offer glasses with a different but similar approach.
At least in the short term, I plan on sticking with chewing saltines, sipping ginger ale and watching the horizon.
If anyone has any experience with anti-seasickness glasses, please leave a comment.