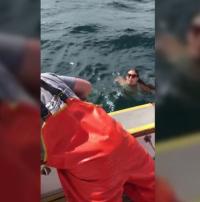 I guess if you are going to be stupid, it is also good to be lucky. A few days ago, two kayakers, a man and a woman, paddled out several miles into the Pacific ocean off Goleta, CA, 15 miles west of Santa Barbara. They ended up in the water after their kayak swamped and capsized. Neither was wearing a personal flotation devices (PFD), which are called life-savers for a reason. Fortunately for the hapless paddlers, they were spotted by Stardust, a charter sports-fishing boat. Unlike the kayakers, the crew on Stardust knew what they were doing and rescued the kayakers from the water.
In a phone interview with a local TV station, Jason Diamond, one of the owners of the Stardust, credited his crew, Larry Spurlock, Christian Geisler as well as Cory Scott and Lewis Turner, for making the heroic ocean rescue roughly three miles out from Devereaux and Isla Vista — not far from Platform Holly. "They were out there," Diamond said, referring to the kayakers. "No lifejackets."
"We do these drills all the time," Diamond said. "That was just a good textbook save. Those guys did a great job."
Congratulations to the owner's captain and crew of the Stardust for their preparation and skill. And to all of us who go out on the water, we should not need to be reminded that over 80% of all drowning victims were not wearing life-jackets. As a longtime sea-kayaker, I know that kayaking can be a wonderful and safe sport, but anyone who kayaks without a pfd is a fool.