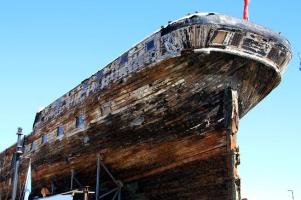 At the end of January, we posted Clipper Ship City of Adelaide Still Not Quite Home, where we noted: "The ship is sitting on a deck barge as a "temporary" accommodation at Port Adelaide's Dock 1, with no permanent dock space yet in sight. The State Government's commitment to provide a permanent location for the largely privately funded project remains unfulfilled."
Now there is good news. The State Government of South Australia has announced plans for a permanent home of the historic clipper ship, the oldest surviving clipper in the world, as part of a proposed Port Adelaide marine precinct. The ship will be moved to the port's Dock 2, and include a pedestrian bridge and road access.
Built in Sunderland, England, in 1864, the City of Adelaide is a composite clipper ship. Like the somewhat newer Cutty Sark, a composite ship has wooden planks over an iron keel, frames and girders. City of Adelaide made 23 annual return voyages from London and Plymouth to Adelaide, South Australia. An estimated 250,000 Australians can trace their ancestry to passengers who arrived on the ship.