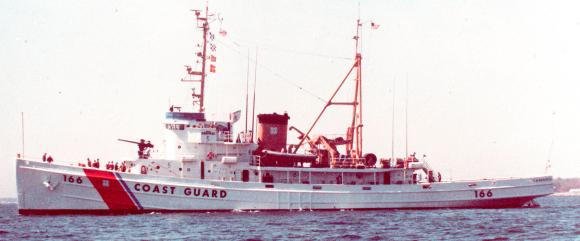 Last October, we posted that the USCG Cutter Tamaroa, ex-USS Zuni, was to be reefed by the end of the month. The 205-foot ex-fleet ocean/salvage tug and ex-Coast Guard Cutter was to be sunk as part of an artificial reef about 26 miles off Cape May, NJ. Sinking the ship on October 30th was to coincide with the the 25th anniversary of the "Perfect Storm" of 1991. The sinking was delayed, however, awaiting test results to document that the 73 year old ship was free of cancer-causing PCBs. The tests took took longer than had been originally anticipated. Now, the storied ship will will finally be sent to the bottom next Tuesday, weather permitting.
Tamaroa may be best known for rescuing the crew of the yacht Satori, as well as the crew of a downed Air National Guard helicopter during the "Perfect Storm", as described in Sebastian Junger's book of the same name.
In addition to service during the "Perfect Storm," Tamaroa was also the first Coast Guard Cutter to arrive at the sinking passenger liner Andrea Doria after the collision with the the Swedish liner Stockholm 1956. In total, the ship served as a Coast Guard Cutter for 48 years. Before her Coast Guard career, the ship was the USS Zuni. Built in 1943, the 205-foot fleet ocean/salvage tug was one of seventy Cherokee-class fleet tugs which saw service in World War II in campaigns in the Marianas, the Philippines, and at Iwo Jima.