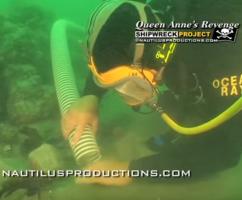 A video producer who produced video of the excavation of a pirate ship is now suing the State of North Carolina and others for piracy. Nautilus Productions, which served as a videographer for the Queen Anne's Revenge shipwreck project, is charging copyright infringement and arguing against the constitutionality of a state law regarding property rights in its suit against the N.C. Department of Natural and Cultural Resources, the State of North Carolina and Friends of Queen Anne's Revenge. U.S. District Judge Terrence W. Boyle recently declined a motion by North Carolina state attorneys to dismiss a lawsuit.
The suit alleges that the defendants made illegal copies of Nautilus' videography, and then persuaded the N.C. General Assembly to pass an "unconstitutional law" known as "Blackbeard's Law" in an attempt to justify pirating work from Nautilus. Blackbeard's Law states that videos, photos and other documentary work in the state's possession are public documents and there are no restrictions on their use.
Blackbeard's Queen Anne's Revenge Shipwreck Project Video Nautilus Productions HD Stock Footage
Queen Anne's Revenge was a frigate, most famously used as a flagship by the pirate Edward Teach, better known as Blackbeard. She had been launched in England as a merchant vessel in 1710 and was captured by pirates in 1717. The wreck was discovered in 1996, in 28 feet of water about a mile offshore of Fort Macon State Park, Atlantic Beach, North Carolina. Thirty-one cannon have been identified to date and more than 250,000 artifacts have been recovered.