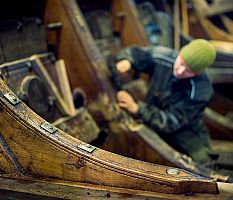 Next weekend, the Viking Ship Draken Harald Hårfagre is seeking volunteers to help maintain the ship before it sets sails again this summer. Or as they put it, "Spring is here, and the Viking Ship Draken Harald Hårfagre needs some extra love before summer!" The Draken, the largest replica Viking ship ever built, spent last winter laid up at the Mystic Seaport Museum in Mystic, CT after completing an epic trans-Atlantic voyage. The Draken Harald Hårfagre is 114 feet, with a beam of 27 feet, displacing seventy tons, with a 3,200 square foot sail of pure silk. Helping to maintain the ship is a great way to get up close and personal with this treasure of living maritime history.
From the Draken Harald Hårfagre Facebook page:
Take the chance to get to know the Ship and some of her crew better for a few days in Mystic Seaport, Connecticut, USA:
– During the weekend the 6th to 7th of May we'll be needing about 10 volunteers (for an overall hull and ballast check).
– From the 8th to the 10th of May we'll be needing about 3-5 volunteers (giving some love to the floorboards and wooden details above deck).
Basic accommodation will be available in the tent onboard, and food will be provided. During Saturday evening one of the crew will hold a presentation about her experience during the adventurous Atlantic crossing last summer. Interested to join? Send us an e-mail (with volunteer in the subject field) to: info@drakenexpeditionamerica.com
We are very thankful for your help!