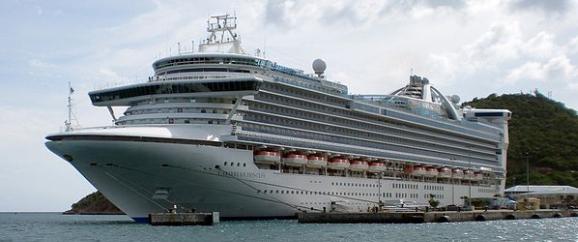 For one Scottish ship's engineer doing the right thing paid off. In 2013, Christopher Keays risked his entire career when he turned whistleblower shortly after taking a job as a junior engineer on board the cruise ship, Caribbean Princess. At the end of last month, he was awarded by US courts $1 million for his role in exposing Princess Cruise Line's illegal polluting.
Keays found that oily waste was being dumped by the Caribbean Princess into UK water waters using a "magic pipe." "Magic pipes" are piping and valves which allow unscrupulous engineers to discretely divert oily waste overboard without being treated. They are highly illegal, but also incredibly difficult to spot except by an engineer who knows the ship's engine room very well. Keays spotted the magic pipe. The easiest and safest thing to do would have been to just keep his mouth shut. Instead, the young engineer secretly took photographs and recorded video footage of key equipment with his cell phone. He then reported what he had found to the UK's Maritime and Coastguard Agency.
Turning whistleblower risked the job that Keays described as a "chance of a lifetime." It also made the prospect of getting other engineering jobs in the future much less likely. The BBC reports that Keays said, "Thinking back, I had not considered the implications of my response and that my career may be over before it barely started. My actions were an automatic response to wrong, when so many others clearly turned a blind eye.
For stepping forward Keays was awarded $1 million for his role in exposing Princess Cruise lines illegal activities. In December, 2016 Princess Cruise Lines, a subsidiary of Carnival, was fined $40 million by the US Department of Justice against Princess Cruise Lines, a subsidiary of Carnival, for what was described as "deliberate pollution of the seas and intentional acts to cover it up."
Will large cash rewards for whistleblowers and multi-million dollar fines for the shipping lines be effective in stopping willful polluting by the cruise lines and other shipping companies? Sadly, this sort of criminal activity has been going on for decades. As we wrote in a post last December:
Between 1998 and 2001 Royal Caribbean Cruise Lines was fined close to $30 million for intentional dumping of waste, including installing "magic pipes" to get around required on board sensors, and for trying to cover up the dumping. Carnival was also fined $18 million for illegal dumping in 2002.
The claim that the fine to be paid by Princess is "the largest-ever criminal penalty involving deliberate vessel pollution," may or may not be accurate. The fines levied on Royal Caribbean in the late 1990s and early 2000s may exceed the $40 million that Princess has agreed to pay, when adjusted for inflation. At the time, one Federal official referred to the company as having a "culture of crime."
Or as Christopher Keays said in a letter to US District Judge Patricia A Seitz, "I genuinely hope that this will be a wake up call for the industry, that my actions will be replicated and empower those with knowledge of these practices to do the right thing, and finally deliberate pollution will become a past shame rather than a continued illegal practice that is unspoken of by many ships crew."
Thanks to Alaric Bond for contributing to this post.