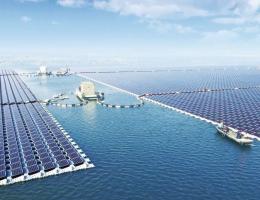 This is only slightly nautical, but I find it interesting, nevertheless. China has opened a floating solar power farm. Unlike offshore wind power, the facility is not at sea. The 40-megawatt solar power plant is floating over what was once an open-pit coal mine, which has now flooded forming a lake. The plant is more efficient because the lake's water provides to the panels, inverters and other mechanical components.
Several news sources have billed it as the "world's largest floating solar plant." This looks like harmless hyperbole, or a backhanded way of commenting on how unusual a floating solar power plant really is, as the 40 MW plant is not overly large in absolute terms.
China has the three of the largest photovoltaic power plants in the world. The Tengger Desert Solar Park has a rated capacity of 1,500 MW. Close behind is Phase one of the Datong Solar Power Top Runner Base at 1,000 MW, scheduled to grow to 3,000 MW in two additional phases. China's Longyangxia Dam Solar Park is rated at 850 MW. India's Kurnool Ultra Mega Solar Park and Kamuthi Solar Power Project round out the top five at 900 MW and 648 MW respectively. The US is not too far behind with four facilities topping 500 MW.
Thanks to Phil Leon for contributing to this post.