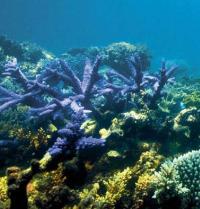 Some complain that responding to climate change will damage the economy and cost jobs. Others counter that not responding effectively to climate change will do even greater economic damage. Recently an analysis of the social and economic value of the Australia's Great Barrier Reef calculated the world's largest barrier reef as being as being an asset worth AU$56 billion (US$ 43 billion.)
The study performed by Deloitte Access Economics, commissioned by the Great Barrier Reef Foundation, concluded that the "reef was too big to fail" supporting 64,000 jobs and contributing AU$29 billion in tourist revenue while also having an "indirect or non-use" value – people that have not yet visited the reef but know it exists – estimated at AU$24 billion.
The reef, larger than Britain, Switzerland and the Netherlands combined, has suffered considerable damage in recent years due to coral bleaching caused by warming sea temperatures linked to climate change as well as from pollution from farming and recent major cyclones.
Lead author, Deloitte Access's John O'Mahony, told the UK Telegraph that it was clear the reef was "priceless and irreplaceable. But we've been able to look at it as an 'asset' that has incredible value on multiple fronts – from its biodiversity and job creating potential to its support for critical industries and standing among international visitors to Australia."
On the other side of the globe, the third largest barrier reef in the world is also in danger. Florida's coral reefs are being severely damaged by warmer waters from climate change, causing coral bleaching and the spread of coral disease. If the reefs die,it would devastate the economy of the Florida Keys.
As reported by the Washington Post: From the visitors who fill dive charters out of Key Largo to the local fishing industry's catches of spiny lobsters, grouper, snapper and other species, nearly everything in the Florida Keys is tied in some way to the reefs.
Diving, snorkeling, fishing, and eating seafood are among the key tourist activities that could be harmed if the reef continues to suffer damage.
Three and a half million people visit the Keys each year — nearly 47 for each of the area's 75,000 full-time residents. Tourism supplies 54 percent of all island jobs and fuels a $2.7 billion economy, according to Monroe County, which includes the Keys and a significant portion of Everglades National Park.
...Less than 10 percent of the reef system is now covered with living coral. Scientists anticipate that as early as 2020, it could be in line for almost yearly bleaching events, in which heat stresses upend the metabolism of corals, in some cases killing them. The reefs experienced back-to-back major bleaching events in 2014 and 2015.
How Florida's dying coral reef might devastate the economy in the Keys