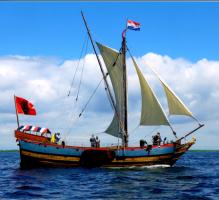 In 1614, the Onrust, captained by Dutch merchant explorer Adriaen Block, was the first European vessel to explore the Connecticut River. This summer, a replica of Block's ship is returning to the river in a collaboration between the Connecticut River Museum in Essex, CT and the Onrust Project, offering cruises on the river and educational programming at dockside.
The original Onrust was built by Block and his crew in the winter of 1614 somewhere in New York harbor. The ship, Tyger , on which Block had sailed from Holland to New York, had been destroyed by fire the previous winter. Onrust , which means "restless" in Dutch, was the first ship to be built in what is now New York State. Sailing the Onrust into Long Island Sound, along the coast of Rhode Island and on to Cape Cod, Block drew the first accurate charts of the southern New England coast. In October of 1614, Block rendezvoused with another Dutch ship on Cape Cod and sailed back to the Netherlands. The Onrust, however, would go on to be used to 1616 to explore the Delaware River under the command of Cornelius Hendrickson.
The replica Onrust was built by the non-profit Onrust Project between 2006 and 2009 at the Mabee Farm Historic Site in Rotterdam Junction, NY, using traditional Dutch shipbuilding techniques. Since 2009, the Onrust has served as a floating museum providing the public with a living history experience of 17th century life and maritime exploration.
The Connecticut River Museum is located at 67 Main Street, Essex, CT 06426. To learn more, click here.