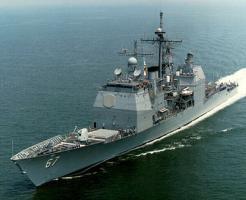 Better a court martial than a funeral. On June 8th, Gas Turbine Systems Technician (Mechanical) 3rd Class Peter Mims was reported missing on the Ticonderoga-class guided missile cruiser USS Shiloh, and presumed to have fallen overboard. His disappearance triggered a a massive, 50-hour search-and-rescue effort off the coast of Japan that included Japanese Coast Guard and naval forces. Presumed dead after not being located in the search, Mims was found to be hiding in one of the cruiser's engine rooms.
As reported by the Navy Times:
It is unclear how Mims survived a week in the engineering space or where he was hiding. He will be flown off Shiloh for evaluation soon. …
Helicopters and fixed-wing aircraft from the carrier Ronald Reagan along with a Navy P-8 maritime patrol aircraft, the destroyers John S. McCain and McCampbell, and the Reagan itself all assisted Shiloh in the search for the missing sailor, according to releasse from U.S. 7th Fleet during the search.
Japanese Coast Guard ship Kudaka also assisted in the search. A Japan Maritime Self-Defense Force ship and a second Japanese Coast Guard ship assisted early in the search that combed more than 5,500 square miles of water off Japan.
Navy officials from U.S. 7th Fleet did not immediately comment Thursday about the status of Mims.
Thanks to Irwin Bryan and Karen Lorentz for contributing to this post.