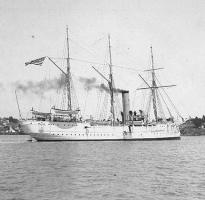 Researchers are holding a news conference today to announce the discovery of the wreck of the USRC/USCGC McCulloch, a cutter of the United States Revenue Cutter Service and later the US Coast Guard. Delivered in 1897, just before the start of the Spanish-American War, she was initially transferred to the US Navy and served under Commander Dewey's Asiatic Squadron in the Battle of Manila Bay.
The McCulloch later patrolled the West Coast and later helped to enforce fur seal regulations in the Pribilof Islands off the coast of Alaska, where it also served as a floating courtroom in remote areas. In 1915, she was transfered to the US Coast Guard, the Revenue Cutter Service and the United States Life-Saving Service were merged to form the Coast Guard. In 1917 with the US's entry into World War I, the McCulloch was transferred back to the US Navy.
The McCulloch sank on June 13, 1917, 3 miles northwest of Point Conception, California, after colliding with a civilian steamship.