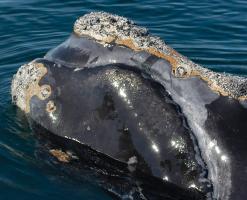 Last week, Joe Howlett, 59, a Canadian fisherman and a founder of Campobello Whale Rescue, died after rescuing a North Atlantic right whale, which was entangled in fishing nets off the coast of New Brunswick. Howlett was apparently struck by the whale just after he cut the last piece of rope which had been wrapped around the whale. "They got the whale totally disentangled and then some kind of freak thing happened and the whale made a big flip," Mackie Green, a co-founder of the whale rescue team, told Canada's Star.com.
Howlett was working with the Canada's Department of Fisheries and Oceans (DFO) in one their boats when he died. Howlett had helped free about two dozen whales since starting Campobello Whale Rescue with Green in 2002, the Canadian Press reported. He had worked to free one whale as recently as July 5, the DFO noted. The New England Aquarium in Boston described Howlett as "one of the few certified whale disentanglement experts in Canada."
The Center for Coastal Studies said Howlett's death was "the only human fatality in the history of the Atlantic Large Whale Disentanglement Network," a group of rescuers operating along the Canadian and U.S. East Coast.
Following Howlett's death the US announced that it was temporarily suspending efforts to rescue large whales entangled in fishing gear, pending an investigation. Chris Oliver, assistant administrator, said in a statement that the National Oceanic and Atmospheric Administration is "suspending all large whale entanglement response activities nationally until further notice, in order to review our own emergency response protocols in light of this event."
What the suspension means for nonprofit entities authorized by the United States and Canada to rescue trapped whales is unclear.
Right whales are considered to be the most endangered all of all large whale species. Only an estimated 500 right whales are left in the world, according to Fisheries and Oceans Canada. The two leading causes of death for right whales are from ship strikes and from entanglement in fishing gear.
A video from October 2016, showing Joe Howlett rescuing an entangled right whale.
Entangled Right Whale Lives to Swim Another Day
Thanks to Phil Leon for contributing to this post.