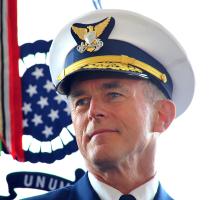 Recently, Lt. Taylor Miller of the U.S. Coast Guard was featured in an article in the Washington Post. Lt. Miller is transgender and after a series of early morning tweets by the current occupant of the White House announcing a ban on transgender personnel in the US military, she said, "I feel very unwanted. Mortified and embarrassed."
USCG Commandant Admiral Paul Zukunft reached out to Lt. Miller and to other twelve transgender members of the US Coast Guard to express his support. As reported by The Hill: Zukunft said he contacted Lt. Taylor Miller, the Coast Guard's first openly transitioning officer who was featured in a Washington Post article last week.
"If you read that story, Taylor's family has disowned her. … And I told Taylor, I will not turn my back. We have made an investment in you and you have made an investment in the Coast Guard and I will not break faith," Zukunft said.
"And so that was the commitment to our people right now. Very small numbers, but all of them are doing meaningful Coast Guard work today."
Joint Chiefs of Staff Chairman Gen. Joseph Dunford… has since said the current transgender policy will remain unchanged until the White House sends an official directive to the Pentagon. Such a directive has yet to be sent. The Pentagon moved last year to lift the ban on transgender individuals serving in the military.
Following that June 2016 announcement, Zukunft released a statement supporting the decision along with then-Homeland Security Secretary Jeh Johnson.
"The U.S. Coast Guard has been involved in the Department of Defense's extensive review of this issue, and will align its policies with the other military services," they wrote. "All qualified people who wish to serve in our Nation's military should have the opportunity to do so. Today's announcement is another important step in that direction."