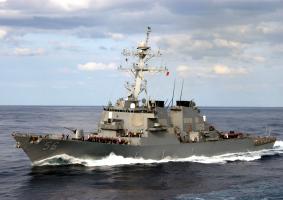 In the second major collision between a US Navy destroyer and a merchant ship in the last three months, the USS John S. McCain was damaged in a collision with a tanker near Singapore. Five sailors were injured and 10 are missing. There are reports of flooding in berthing compartments as well as machinery and communication rooms. Despite the damage, the destroyer was able to proceed under its own power to Singapore's Changi Naval Base.
The US Navy announced: The guided-missile destroyer USS John S. McCain (DDG 56) was involved in a collision with the merchant vessel Alnic MC while underway east of Singapore and the Strait of Malacca on Aug. 21.
The collision was reported at 6:24 a.m. Japan Standard Time, while the ship was transiting to a routine port visit in Singapore. Initial reports indicate John S. McCain sustained damage to her port side aft. Search and rescue efforts are underway in coordination with local authorities.
The destroyer is named after John S. McCain, Sr., and John S. McCain, Jr., both Admirals in the United States Navy. Like the USS Fitzgerald, which was in a collision with a container ship on June 16th, the USS John S. McCain is an Arleigh Burke-class destroyer deployed with the 7th Fleet in Yokosuka, Japan. Both ships are equipped with the Aegis missile defense system.
Earlier this month, the McCain performed a freedom-of-navigation exercise near a Chinese-claimed island in the South China Sea.
US Navy ships have suffered four casualties in Asia in 2017. In addition to the USS McCain and USS Fitgerald collisions, in May, the guided-missile cruiser USS Lake Champlain was struck by a small fishing boat off Korea.
And in late January, the guided-missile cruiser USS Antietam ran aground in Tokyo Bay. The Antietam, which is also equipped with the Aegis system, is undergoing repairs.
With damage to the Fitzgerald, the McCain, and the Antietam, the US Navy has lost three of 14 Aegis-equipped ships deployed in Asia. Overall, the US Navy has 84 Aegis-equipped ships. The Aegis missile defense system has been identified as potentially useful for tracking and counter North Korean missiles.
The Alnic MC is a 50,760 DWT Liberian flag oil/chemical tanker. CNN reports that the Maritime and Port Authority of Singapore said the Alnic sustained damage to a tank at its bow, about seven meters (23 feet) above the waterline. No one was injured on the tanker, it said, and no oil spill was reported. Based on displacement, the Alnic is roughly six times larger than the McCain, although is much slower and less maneuverable.
Thanks to Alaric Bond and John Gregoire for contributing to this post.