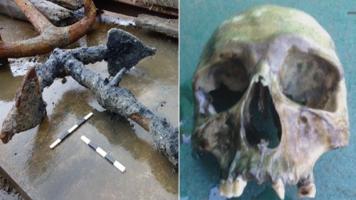 When dredging a harbor with as long and rich a history as UK's Portsmouth, there is literally no telling what you may find. The harbor is now being dredged to deepen and widen a four-mile channel to allow the the navy's new 65,000-tonne aircraft carriers, HMS Queen Elizabeth and HMS Prince of Wales, to dock. In the process of completing this work, the BBC reports that 20,000 items have been discovered, ranging from a human skull, to cannon, to shoes, anchors, clay pipes, and sea mines. The artifacts are believed to range in age from the 18th century to the recent past.
The dredging, which started in September 2015, has removed 3,200,000 cubic meters of sediment and has uncovered eight cannon, an aircraft engine and 36 anchors. A German sea mine and five bombs dating from World War II were also found on the seabed, and were towed out to sea and detonated by the Royal Navy's Explosive Ordnance Disposal team.
The human skull, which is thought to date back to the Napoleonic Wars, was also dredged up. in Portsmouth. Capt Iain Greenlees, who is in charge of the dredging project said: "There was a burial ground on one of the islands in the harbour and it was almost certainly washed away from there."
Bottles, plates, ceramics and clay pipes have also been uncovered. All have been passed to archaeologists at Wessex Archaeology for study.
Thanks to Alaric Bond for contributing to this post.