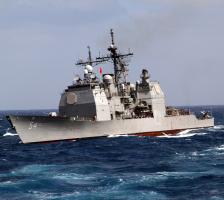 These have been rough times for US destroyers and cruisers deployed to Japan. The US Navy has found that the former commanding officer of the USS Antietam, Captain Joseph Carrigan, was "ultimately responsible" for the cruiser running aground and spilling roughly 1,100 gallons of hydraulic fluid into Tokyo Bay in January.
The command report issued in April was obtained last week by Stars and Stripes though a Freedom of Information Act request. The grounding took place on January 31st. Captain Carrigan was relieved of his command on March 1st.
As reported by Stars and Stripes: The report describes a series of errors and incorrect judgments leading to the grounding, starting with a delayed ship departure caused by system errors and trash left on the pier. Crew members said the delay left Carrigan in a foul mood.
"The CO was angry, I didn't know why, and told me to get to the bridge and 'fix it,'" said the ship's acting combat systems officer, a lieutenant whose name was redacted. "There was a fog on the bridge, a sort of zero-defect mentality that conveyed don't say anything or the CO would get upset. The CO liked to get underway on time, and things would get inflated in the moment."
Incorrect navigational planning and execution failed to account for sustained winds of 23-31 mph and gusts of 35 mph, the investigation said. A series of mishaps also led to the anchor dragging. The ship ran aground on shoals just outside Yokosuka Naval Base.
The Antietam remains in drydock after incurring at least $4.2 million worth of damage to both propellers and one of the propeller hubs.
Antietam was the first of two US Navy ships from the Yokosuka Naval Base to have serious accidents this year. On June 17 the destroyer USS Fitzgerald was in a collision with a container ship, about 64 miles southwest of the naval base. Seven sailors died and damage to the Fitzgerald is estimated to exceed $250 million.