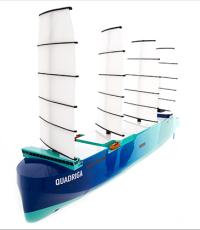 Lloyd's Register (LR) announced recently that it has joined the Quadriga sustainable shipping project – an initiative from Hamburg-based Sailing Cargo, which aims to build a sailing car-carrier, which would be the world's largest sailing cargo ship. The 170-meter long design features four DynaRig masts with a sail area of 5,000 M2 and would be capable of carrying between 1,700 to 2,000 cars. The ship will be powered by sails and diesel-electric engines with an initial design speed of 10-12 knots, with the goal of achieving 14-16 knots in the next few years as the design is developed.
In addition to LR, Sailing Cargo is also partnering with ship operator, Peter Döhle Schifffahrts KG, naval architects, Dykstra Naval Architects and SDC Ship Design & Consult GmbH, hydrodynamicists, Hamburgische Schiffbau-Versuchsanstalt, and sailmaker, North Sails GmbH.
LR notes that: Wind-assisted propulsion offers a realistic option for introducing renewable power into shipping. LR's Low Carbon Pathways 2050 study found that low carbon ships will need to enter the fleet by 2030 in order for shipping to reduce its emissions in line with the Paris Agreement and this means significant changes in the industry are required.
The big question is whether the technology will be available on the scale needed to achieve the level of reduction required. The consensus is that engineering advances alone and the associated efficiency gains will simply not be enough to achieve this. Fuels will have to change and the Quadriga project provides one of the potential viable alternative solutions.
While the proposed ship is described as the world's largest sailing cargo ship, it would a relatively small car-carrier. Conventional modern car-carriers typically range in capacities from 5,000 to 8,500 cars.
The Quadriga Trailer 2017 from Sailing-Cargo on Vimeo.