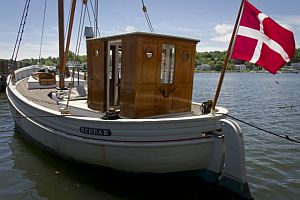 Among the fleet of ships and boats that make up the fleet at the Mystic Seaport Museum, the Danish lighthouse tender Gerda III, built in 1926, is a ruggedly attractive double-ender. Nevertheless, she could easily be overlooked. That would be a mistake. Gerda III played an important role in an audacious and risky rescue mission to save Jewish refugees from Denmark in 1943.
When it became apparent that the invading Germans intended to round up Danish Jews and send them to concentration camps, the Danes began a desperate effort to rescue the Jews. A flotilla of fishing and cargo vessels assembled to smuggle the refugees to safety in neutral Sweden. Gerda III was based in the fishing village of Gilleleje, only about 11 miles from Sweden. About one-fifth of the Danish Jews escaped to Sweden via Gilleleje.
In October of 1943, Hanny Sondig, the 19-year-old daughter of the boat's manager, took command of Gerda III with a crew of four and nightly smuggled groups of 10 to 15 Jewish refugees in the tiny hold of the lighthouse tender. In the two-week evacuation, over 300 refugees were smuggled aboard Gerda III. Ultimately, more than 7,000 Jews were smuggled out of Demark. Only 481 were captured by the Germans and sent to camps.
From The Rescue of the Danish Jews: Leif Wassermann, was only five years old when his family, including his parents, grandparents and younger sister, fled to their coastal summer home in Gilleleje. He later recalled how his father carried him down into the dark hull of the boat in the middle of the night, but he remembered the hushed voices, the cramped feeling as people crowded inside and the rotten smell of fish.
`We stayed very low on the floor. We heard there were German patrols outside. We saw flashlights going through the windows, Wassermann recalled. Although the Gerda III was regularly boarded by German soldiers, the refugees were never discovered. The boat made more than a dozen trips with groups of five to 20 people crammed inside the hull – thus saving many Jewish families from annihilation. Leif Wassermann and his family were not able to return to their homeland until May 5, 1945, when Denmark was liberated. Years later he was appointed vice-consul and commercial attache of the Danish government in New York.
After the war, the Danish Parliament donated Gerda III to the Museum of Jewish Heritage in New York. Mystic Seaport Museum has teamed with the museum to care for and exhibit Gerda III. Here is a short video from Mystic Seaport about Gerda III.