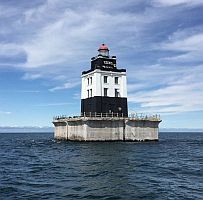 There are always iconic objects that are almost irresistible in contemplation. They represent ideas which are far too easy to fall in love with. I really wanted to own an old style Volkswagen "bug" and then I owned one and understood my mistake. The old bug had a nearly indestructible engine but the body of the car had almost entirely rusted away. It had seemed like a good idea at the time. Likewise, I had friends who were in love with the idea of converting an almost free surplus lifeboat into an oceangoing yacht. That didn't work out too well either.
Another iconic structure, perhaps the most iconic, is a lighthouse. Every year the government puts decommissioned lighthouses up for sale, often for very little money. Some lighthouses have sold for as little as $10,000! A few have been given away for free! How cool is that? A lighthouse for less than the cost of a new car! If only that was all the lighthouses really cost.
The New York Times recently published an article, "True Cost of Buying a Cheap Lighthouse? That Should Be Visible a Mile Away" which looks at the real cost of owning a "cheap lighthouse."
The problem is that most lighthouses are what are called euphemistically in real estate as "fixer-uppers." The old lighthouses simply need a lot of work. In fact, that is exactly why the government is selling them for so little money. They are costing too much to keep up so they are being sold off.
Christina Carron in the NYTimes writes:
The new government auctions, which started in July, are listed on the General Services Administration's website. They include the Detroit River Light, built in 1885, in Lake Erie; the Craighill Channel Lower Range Front Light Station on the Chesapeake Bay, which was first lit in 1873; and the Lansing Shoal Light, constructed in 1928, one of the last offshore lights built on the Great Lakes. Four of the six lighthouses are currently $15,000, one is $27,000 and the cheapest is $10,000.
The National Historic Lighthouse Preservation Act, passed in 2000, helps the government preserve lighthouses that are no longer needed by the Coast Guard.
When the time comes to find a new owner, officials search for stewards like nonprofits and educational agencies. But if there aren't any acceptable organizations stepping up to the plate, the property is then offered to the public for sale by auction.
Since 2000, the government has parted with 133 lighthouses: Preservationists have received 78 of them at no cost, and 55 have been auctioned to the public, the General Services Administration said in a news release.
Low cost lighthouses can end up costing a lot of money even if the owners do most of the work.
Nick Korstad discovered just how time consuming it can be when he purchased the Borden Flats Lighthouse in Fall River, Mass., for $56,000 at a public auction in 2010.
Faced with renovating, he received contractors' estimates "between $300,000 and $400,000," Mr. Korstad said in a phone interview from the lighthouse. So he decided to do the work himself.
"Honestly, it's crazy,'' he said. "It only cost about $30,000 to put it back together."
He estimated that he spends about 300 hours and $15,000 a year to keep the 136-year-old structure looking good, and he continues to do much of the work.
"It's always falling apart," he said. "If you fix something, you know you're going to fix it again."
Then again, if you are hooked on lighthouses, it may all be worth it.
Mr. Korstad's fascination with lighthouses started when he was in the sixth grade, he said, when he met a lighthouse keeper in Washington state.
He bought his first lighthouse when he was 24. Mr. Korstad, now 35, currently owns three of them, and he's taking over a lease for another in New London, Conn.
Managing lighthouses is a full-time job, he said, one that involves painting, rust prevention, roof repair and more.
"It's a learning experience. When people purchase these, this is something they have to be aware of."