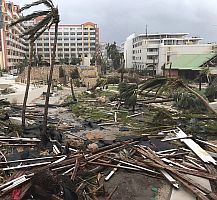 Hurricane Irma absolutely devastated many islands in the Caribbean. Now, in the aftermath of the catastrophic storm, aid is being sent by a small armada of ships and boats from governments, corporations and private citizens.
The need for help is enormous. On the island of Barbuda, 90% of buildings have been damaged or destroyed and 50% of the population of about 1,000 people left homeless. Anguilla suffered major damage first from Hurricane Irma and then from Hurricane Jose, which followed close behind. Eleven people were killed, and more than 100 injured in the French overseas collectivities of St Martin and St Barthélemy (St Barts). 95% of the buildings on St. Martin were reported to be damaged or destroyed. Damage in the US Virgins Islands of St. Thomas and St. John was also extensive, as was damage to buildings in Tortola in the British Virgin Islands where a large sailboat charter fleet was also wiped out.
The US Navy has dispatched ships to aid the victims of Irma in the Caribbean. USS Wasp, a multipurpose amphibious assault ship, arrived in St. Thomas last Thursday and helped evacuate critical care patients from the island. Two Dutch Navy ships are providing support in St. Martin, where the US Coast Guard and National Guard have also evacuated visitors. The Royal Navy support ship RFA Mounts Bay has arrived at Anguilla with supplies. HMS Ocean, an amphibious assault ship, is also on its way to the stricken islands.
Cruise lines are also sending ships with supplies and to evacuate stranded visitors to the islands. President and CEO of Royal Caribbean, Michael Bayley told the Miami Herald that four ships will be used for Irma relief efforts. Norwegian Cruise Line, based in Miami, also announced plans Friday to deploy one ship to pick up stranded tourists in the Caribbean.
Royal Caribbean's ships, several of which are sailing empty due to storm-induced cancellations, are fully stocked and staffed, Bayley said. Those resources will instead be used to aid in relief efforts across ports in the Caribbean that were badly hit by Irma.
The Miami Herald reports that the Majesty of the Seas, which can fit 2,767 guests at maximum occupancy, is sailing to St. Thomas and St. John in the U.S. Virgin Islands to drop off water, ice, food and other provisions on Tuesday. The ship will offer meals to first responders before sailing with displaced tourists to San Juan, Puerto Rico, where the airport is operational and where travelers can catch flights home, Bayley said.
Royal Caribbean is working closely with authorities in the U.S. Virgin Islands to determine which tourists it needs to transport. The number is estimated to be between 1,500 and 3,000 people.
Mariners in private boats are also doing what they can to help. Puerto Rico was spared the worst of the Hurricane Irma's destruction. Now boaters on the island are organizing a "boat lift" to deliver food water and supplies to the Virgin Islands. The New York Times reports: Puerto Ricans relieved at being spared the worst destruction donated water, clothing, first aid and other supplies, and dozens of recreational boaters sailed to nearby islands to deliver the assistance and evacuate now-homeless islanders on the return trip.
The civilian sealift … has been largely a spontaneous, volunteer affair. And it has grown out of the longtime affinities and links among recreational boaters in Puerto Rico and the islands to the east.
Puerto Ricans often cruise to the American or British Virgin Islands, known interchangeably here as "las islas," to enjoy their crystalline beaches or for fishing competitions. One week-long event held in July in the British islands attracts such a large contingent of visiting boats that locals joke about hosting the Puerto Rican Navy.
Thanks to Alaric Bond for contributing to this post.