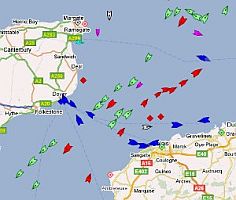 Following the recent collisions between US Navy destroyers and merchant ships, various internet sites posted the AIS tracks of the collisions. Well, they posted half the AIS tracks anyway. The merchant ships used AIS while the Navy did not. While US Navy ships have AIS transponders onboard they do not transmit their positions nor apparently do Navy crews regularly consult the receivers showing the location and course of other ships. It was possible to track merchant ships' courses but not the destroyers'. That now appears to be about to change. The Navy appears ready to finally switch their AIS transmitters on.
If the acronym AIS is not familiar, the Automatic Identification System (AIS) is an automatic tracking system which broadcasts a ship's unique identification, position, course, and speed to other ships close by. AIS is required by the SOLAS (Safety of LIfe at Sea Convention) for almost all commercial ships. Use by military vessels is optional.
There are obviously circumstances where a naval vessel broadcasting its position might be a very bad idea. On the other hand when navigating in extremely crowded waterways, being able to easily see and be seen by other traffic may be a good thing. The USS Fitzgerald and the USS John McCain both were in collisions while operating without AIS in the middle of the night in the highly congested approach to Toyko harbor and the Strait of Malacca near Singapore, respectively.
Recently, Secretary of the Navy Richard V. Spencer and Chief of Naval Operations Adm. John Richardson faced intense questioning when they appeared before the Senate Armed Services Committee earlier this week. Richardson suggested that part of the problem is that the US Navy ships are, by design, hard to see. Stealth technology results in ships with smaller radar profiles and even the haze gray color scheme decreases the ships' visibility to other vessels.
USNI quotes, Richardson saying, "We design our warships to have a lower radar cross-section. Some are designed to be very low. That degree of stealth makes us more effective from a warfighting standpoint."
But this stealth also imposes a burden on Navy crews to understand non-threatening marine traffic will have difficulty recognizing the size, location, and speed of Navy ships, Richardson added. Crews need to be more like a "defensive driver."
A quick fix, Richardson said, is now the surface fleet is supposed to use its automatic identification system – AIS – when in high traffic areas.
While the Navy has for years had AIS onboard, Richardson said the system was rarely used.
Turning on the AIS systems will, no doubt, provide an additional tool to US Navy officers in avoiding collisions, but does it really address the larger problem? AIS will make US Navy ships more visible to merchantmen. If properly used, it should also make it easier to for navy ships to avoid hitting other ships. That being said, the two destroyers who recently in collisions have some of the most sophisticated technology ever developed, designed to target incoming missiles. Nevertheless, both ships proved incapable of missing two large and relatively slow merchant vessels. Both destroyers are faster, more maneuverable and possess advanced radar and electronics. AIS may help, but it is indeed a "quick fix" and little more than a band-aid on a much larger wound.