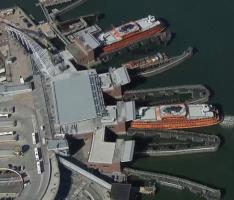 Last Thursday evening, a man described as being extremely drunk, stole a skiff in Bayonne, NJ, and drove it across New York harbor to Staten Island. He docked the boat in a slip at the St. George Staten Island Ferry Terminal, walked up the gangway and disappeared. The problem is that the ferry terminal docks are considered to be a "secure area" and the drunken man walked right through several restricted areas to make his escape. Alarms bells, literally and figuratively, have been going off ever since.
The Staten Island Ferry is the single busiest ferry route in the United States with an average daily ridership of around 65,000 passengers. Last year it set a record for carrying almost 24 million people.
How serious was the security breach? Some are invoking the 2000 USS Cole bombing in Yemen, where suicide bombers drove a small boat loaded with explosives into the side of the destroyer killing 17 and seriously damaging the ship. They ask what would have happened if instead of a drunken boater, the skiff was loaded with explosives and driven by terrorists. Thomas Checchi writing for the Staten Island Advance demands action. He writes: "The case revealed gaping holes in ferry security that the Coast Guard, the NYPD, and the DOT need to closely examine and fix — immediately."
On the other hand in the very busy and congested harbor, there are limits to what can be done. The Coast Guard reports that there are occasional security breaches but that the public should not be concerned. Gary Wexler, of Elite Investigations, is quoted by CBS News: "I don't think the public should be concerned at all. There are approximately 250 sensitive spots along the harbor. I think protocols were implemented. If they weren't then the public should be, but clearly, all were followed. There was an immediate notification, an immediate response."
The skiff was reported to be stolen from Ken's Booming and Boat Service in Bayonne. Police are still on the lookout for the intoxicated thief.
The challenge in a highly congested harbor like New York is how to balance access with safety and security. Sadly, there are no easy answers.