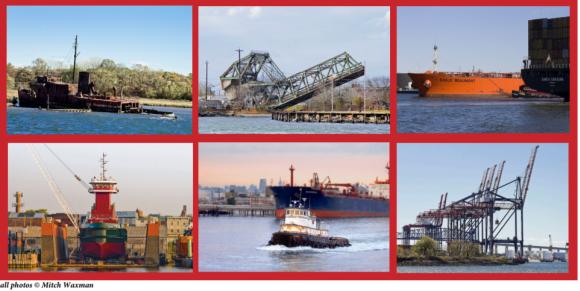 On Sunday, October 15, the Working Waterfront Committee is presenting "The Hidden Harbors of Staten Island," a behind the scenes tour of a fascinating island led by Mitch Waxman of the Newtown Creek Alliance and Gordon Cooper, WHC Board Member and maritime consultant. From the WHC Hidden Harbor Tour press release:
Our route will carry us up the busy Kill Van Kull, with the oil terminals and factories of Bayonne on one side and the maritime industrial North Shore of Staten Island on the other. We will pass by floating dry docks, tugboat ports, and then under the Bayonne Bridge. The Shooters Island Bird Sanctuary, and the wooden ruins of a coaling station will be next. Our Captain will then guide us into the busy Arthur Kill waterway. We will pass Global Terminal (formerly NYCT) where the age of cargo box shipping began in 1956, and then we will see the newly rebuilt Goethals Bridge, a railroad lift bridge, and the Outerbridge Crossing.
We will head all the way back to Fresh Kills, and see what's left of the Rossville Ships Graveyard. On the NewJersey side of the waterway, you'll see power plants and oil refineries, as well as several smaller bridges.On the StatenIsland side, as we approach Fresh Kills, our halfway point on the journey, watch for bald eagles and other birds of prey rising out of the tidal wetlands and hunting for dinner. We will then begin our journey back to Pier 11, pausing at the Statue of Liberty for photo ops.
The 2-hour, fully narrated boat tour departs at 2:00 PM sharp. Boarding begins at 1:45 pm from Pier 11 Wall Street in Manhattan located on South St. between Wall St. & Gouverneur Lane. Snack bar on board. Tickets: $30; $25 seniors. For group sale rates, email workingharbor@aol.com