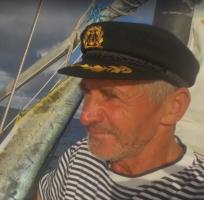 His name is Rimas Meleshyus. He recently showed up adrift on his 30-foot sailboat, Mimsy, off Saipan, where he was towed into port. He had last been reported almost 3,000 nautical miles away on July 31, off Fiji.
Over the last several years, he has undertaken a series of increasingly bizarre Pacific voyages in three different donated sailboats.Meleshyus is a 60-something Russian immigrant and naturalized US citizen, who set off to sail alone around the world without necessarily knowing much about sailing. Here is a brief recap of his ongoing voyaging, to the extent I can put it together.
Meleshyus departed Hilo, Hawaii in June and spent 137 days at sea. He had been using a Garmin In-Reach satellite tracker, which apparently stopped working toward the end of July. The Daily Astorian reports: On July 21, a Facebook post said "Good morning. One of the biggest adventure in America history. No money no life raft no main sail no nothing, but one of the happest sailor." His last post, July 30, from near Fiji, mentioned his tiller was damaged, and it was "just current pushing boat, very not clear where end up."
Notwithstanding the considerable distances that he has covered, Meleshyus is not considered to be a particularly skilled sailor. NPR comments: He has gained a reputation among sailing aficionados — many of whom follow him on social media — for his unique style of cruising. On multiple voyages across big stretches of ocean, he doesn't so much sail as he drifts, something he calls "Kon Tiki-style," a reference to anthropologist Thor Heyerdahl's 1947 drift across the Pacific in a balsa wood raft meant to prove his (since discredited) theory that it was South Americans who settled the South Pacific.
His 30-foot sailboat, Mimsy, is the third boat to be donated to Meleshyus in his quest to sail around the globe. The first was a San Juan 24, named Cesura, on which he sailed or drifted from California to the Gulf of Alaska in 2012. The boat went aground on the Alaskan island of Akutan, from which Meleshyus was rescued by the US Coast Guard.
His second boat was also a San Juan 24, this time named Pier Pressure. San Juan 24s are thought of as daysailers or weekenders. Nevertheless, Meleshyus set off from Puget Sound in 2013 bound for Cape Horn in the 24′ boat. Things did not go as planned. After being battered by storms off Mexico, Meleshyus changed course and headed for Hawaii. With the help of some good Samaritans, his boat was repaired and he sailed and drifted back to San Francisco in 56 days, or at an average speed of about 1.5 knots. Unable to sail into San Francisco on his own, he ended up being towed into the harbor.
Undaunted, Rimas Meleshyus resupplied and set off again, only to apparently disappear, triggering a massive Coast Guard search which was called off when he arrived in American Samoa 122 days after leaving San Francisco Bay. Once again, he required assistance to make landfall and was towed into Pago Pago. Again, he averaged under 1.5 knots.
Reportedly, Meleshyus flew home, perhaps after selling his boat. Somehow or another, in 2016, he was given a third boat, a Rawson 30 named Mimsy. He sailed for Hawaii, but ran out of food and water and had to be towed into Hilo. This westbound trip took him 46 days.
So now, Rimas Meleshyus has been towed into Saipan. He needs a new mainsail and other repairs to his boat, but he says that he plans to continue sailing on regardless.
It is hard to know what to say about Rimas. His perseverance is impressive even if his sailing skills may not be. If he is determined to keep sailing and no one succeeds in stopping him, perhaps we can only wish him luck. I hope that no one who has to rescue him is put at undue risk. Given his track record so far, it seems likely Rimas will require rescue or, at least, a tow in the near future.