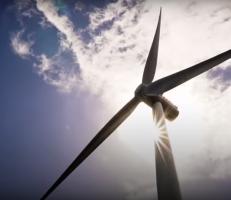 A new study released this week suggests that offshore floating wind farms could generate enough energy to power the entire world. The study is not referring to the existing offshore wind farms in shallower waters but to deep-sea wind farms where the full power of the ocean's winds can be utilized. It is an interesting analysis although somewhat theoretical as until very recently deeper-water floating wind turbines were either only on the drawing board or operating as small demonstration projects.
This summer, however, twenty-five kilometers off the coast of Peterhead in north-east Scotland, five floating wind turbines are being installed in depths of water of 95-120 meters. Known as Hywind, the facility will be the world's first floating wind farm. Each turbine is 78-meters-tall and is held upright by underwater ballast and by three mooring lines. The project is being developed by Norway's Statoil, which is seeking to diversify away from carbon-based fuels. The five turbines, each designed to generate six megawatts of electricity, are expected to power 20,000 households and are expected to go online within the month.
The Statoil project will not be the world's only floating wind farm for long. FT reports that Kincardine Offshore Windfarm is hoping to have installed the first of a proposed array of eight turbines 15 kilometers off the coast of Aberdeen by the end of June 2018.
Conventional offshore turbines which are anchored directly to the sea floor are good for depths up to about 40 meters, which makes them impractical for the steeply shelving coastlines of the US west coast or Japan.